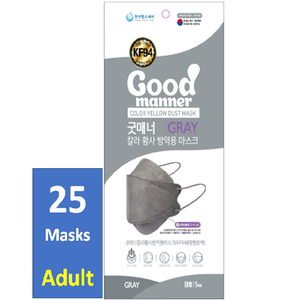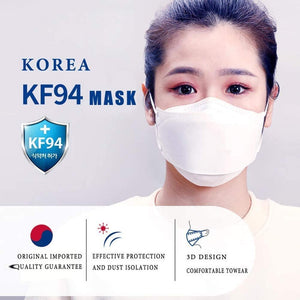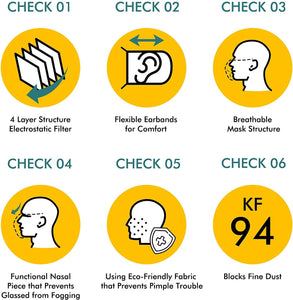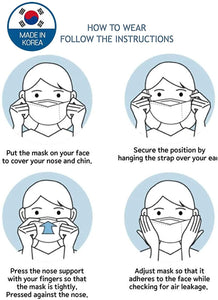 Grey masks
These are bigger than the black version so don't fit as well around nose for smaller faces.
Good Manner Mask KF94 Gray Adult (25 Masks), Free Shipping within Canada-The Authorized Distributor in Canada.
Package is labeled yellow, but the first package I opened is gray as ordered. Here's hoping the rest of the packs are not yellow too!
Breathable, comfortable, easy to wear for extended periods
I have purchased a few different Good Manner brand mask types from Clear Pro. The KF94 Gray adult masks (and even the Beige ones) fit well and seem durable. They are currently my favourite. They can lay flat on my cheeks for a good seal. It would be better if they had an adjustable bead for the ear loops because they are a little big for me. I have to tie the ends in a knot, if I want an even better seal.
On a side note, my child was the one who originally wanted this style of mask, which led me to Clear Pro because I was looking for quality masks. She likes the children's version and finds them comfortable and can wear them for extended periods. However, now she prefers if they came in black as a colour option. She is no longer in the stage of wanting white or pink.
I have also tried the adult 2D style in black, medium. They were not as durable and the fit wasn't as good for my smaller face. The ear loops easily broke off, when I tried to tie the ends to shorten them.
Overall, I like the Good Manner masks as they are but additional options could make them better (e.g. adjustable ear loop, smaller adult/teen size for 2D version or black coloured KF94 mask for children) I will still buy more, as needed though. A custom bulk combo to add the Gray and Beige options would be nice too.
Good Mannner Mask KF94
Friend turned me on to these masks. They are amazing. I have ordered a few times now. Comfortable on the face and ears, no irritation, easy to breathe, and they keep me safe. Thank you!